Limón
Well, we had lots of fun in Limón. It is a port town on the Caribbean coast. At sea level, Costa Rica is very hot and muggy. We stayed at the home of Ismael´s grandmother (Ismael is a good friend and co-worker of Katherine). This is not a tourist destination and we sure enjoyed seeing Costa Rica in this different light. There was plenty of good food. In the evening we sat with Ismael and his wife Karla on the porch and shared stories, pictures, and watched the neighborhood children play soccer in the street. It was a relaxing and fun evening.
About half of the population (I guess) is black and bilingual. The English is close to a Jamaican accent. Dangerous? No. In fact, the people leave their front doors open all day. In San José, by contrast, doors and gates are only unlocked during the time that someone is using them. Racism and classism seems to be alive and well in Costa Rica (see the previous blog entry), but should we expect anything different? In fact, this helps us to understand the injustice better in general.
We went to two beaches. Playa Bonita (literally, "Beautiful Beach") is in Limón, and the hangout of the locals. We played with Ismael and his two kids, Allison and Anfreny. Later we went to
Parque Nacional Cahuita
. While
there
, we saw two sloths, bright blue and orange crabs, and lots of small monkeys The photos didn´t turn out well. But it was great. Lots of fun.
Now for the pictures.
Here we are in front of the island where Christopher Columbus landed in 1502 and named the place, "Costa Rica."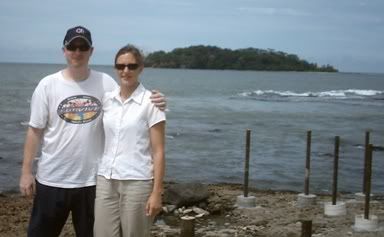 Our friends and "tour guides" Anfreny (in front), Ariel (on the left) and Ismael.
At Playa Bonita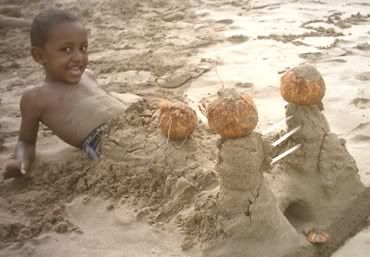 Find the crab -- they were everywhere, but hid in their holes when we walked by.
Snapped this picture on the way to school last week.