First Week of School
El Instituto de Lengua Española
It is difficult to bring lots of people together from various parts of the world, with many varying levels, and varying ways of learning (self-taught vs. high school vs. spending a summer in Peru, etc.). So, the classes are not hitting us directly where we need, and the homework is pretty light. But, both Katherine and I are pretty self-motivated, and for self-motivated, initiative-taking people, this is a great place.
Ages vary from 16 years to 60 and more. Katherine and I are in separate classes, she is one step ahead of me. Our classes have about 5 people each. First class, at 12:30 is grammar, and second one is conversation. Our teachers all are Costa Rican, and have university degrees. All have been teaching for at least 7 years in this school.
I am amazed and surprised at how much Spanish I have learned in the 4 days I´ve been here.
At our school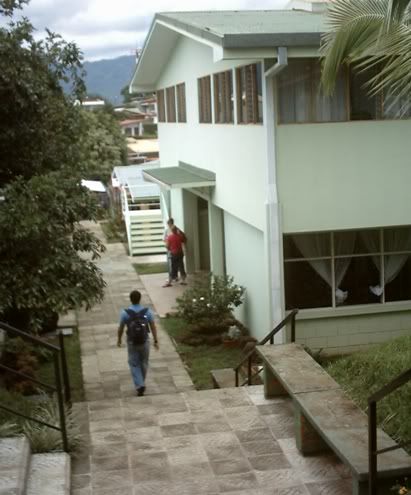 Waiting for class to begin, I´m on the right in the white shirt.