Festival
Sunday, 6-25-2006
Festival of the Body and Blood of Jesus. We went with our Tico family to church. We did not really know what to expect. The service was held outside in a cul-de-sac near our house. After the service, the whole congregation processed downhill, following the special balloons. The priest had a canopy over him, and an alter boy (part of our family, met us at the airport) swinging the incense in front. At the very front, all the little children wore costumes like angels, and spread colorful flower petals on the street. It was a beautiful and fun parade. We sang hymns, and recited the creeds on the way.
However, I got pretty sunburned on my bald head. Did not expect church to include standing outside for 3 hours. Further, we are very near the equator, and San Josè is very high in the mountains. The sun´s rays are very powerful even though the climate is near perfect all the time.
In the afternoon, it rained for about 30 minutes as hard as I have ever experienced. The rain was amazing. Then it cleared up and was nice.
A view from near our home.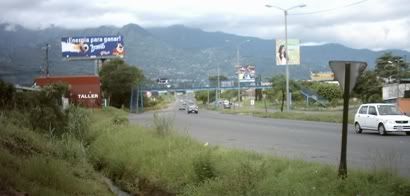 This is our street, just before the parade. Our house is blue at the bottom of the hill.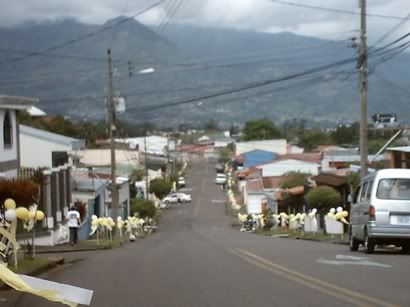 This is Carlos Alberto, our friend, swinging the incense, with the priest behind.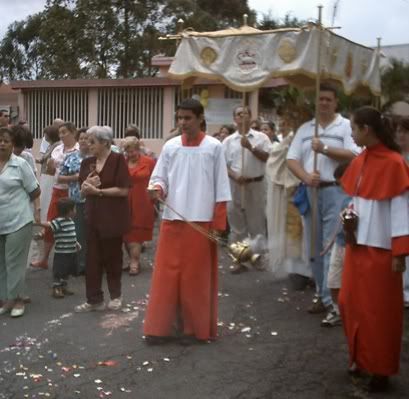 And Tatiana, also in our Tico family. She is 6 years old. I like to talk with her, it works well.