Arenal Volcano
Over the weekend, Katherine and I celebrated our seventh anniversary (which is actually in about 6 weeks) at the Arenal Volcano. We stayed at
Los Lagos
. The hotel is at the base of the volcano and has water heated thereby. They have a large pool of hot water (92 degrees). Think of a hot tub, but the size of a pool. On one side of the pool, there are cement/tile barstools in the water, and we sat there at the bar for tropical drinks. Very cool.
We rode in a microbus 4 hours to the volcano.
The distance
is not great, but the roads are small with many curves in the mountains. The top of this active volcano was cloudy the whole time, but we could hear it well. Also, very cool.
Saturday night, we took a
night tour
through a rainforest nearby. This was my first time in a rainforest. We saw an Eyelash Viper (second most poisenous in the forest), a Coral Snake, many toads, a
Kinkajou
, two taratulas, a frog, many lizards, army ants, leaf-cutter ants (and a humongous ant hill). We crossed many hanging bridges, but we didn´t really see them until the next morning when we returned for another 3 hours in the rainforest, but this time in the daylight. The sounds were totally different, we saw a bunch more lizards, and many birds. We were a bit disapointed with the lack of monkeys, but that´s ok. The fauna was also terrific. It was a great experience.
At a park, on the way
The vocano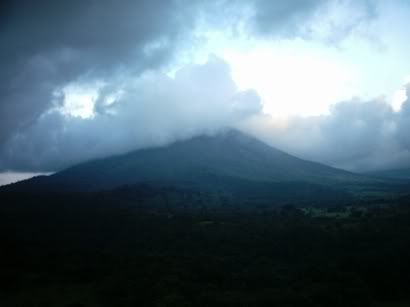 One of the waterfalls
The viper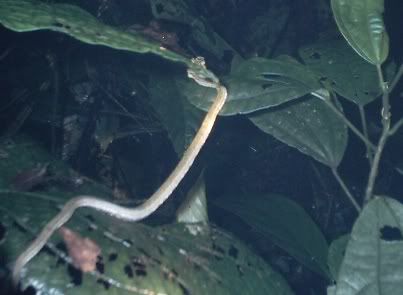 Our only picture of the kinkajou